MicroSociety Inc. has two exciting events coming up
 a virtual event, July 11, 2023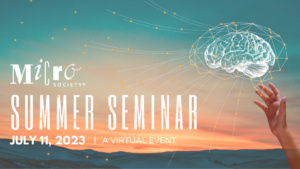 Registration is open for this one-day virtual event themed "innovation and inspiration." 
View our agenda featuring interactive sessions, practical how-to's, and networking opportunities. Come learn from our trainers and colleagues at other MicroSociety schools, and end the day with an action plan to grow your school beyond bounds.
Sign up before May 1 to get our special Early Bird rate of $99 per person. After, the price will rise to $149 per person. As always, principals and coordinators of schools with multi-year contracts attend free. Plus, if your school registers 5 attendees, you get a 6th free!
30th Annual MicroSociety Conference
at Penn Hills Charter School of Entrepreneurship in Pittsburgh, March 20-24, 2024
Register Here
Schedule & Events
Why Attend?
The MicroSociety summer conference is MicroSociety Inc.'s flagship professional development event for educators and stakeholders in the MicroSociety movement. Every year, educators from across the global community of MicroSociety schools and after-schools attend to learn best practices from each other and from MSI's training experts and to hear about exciting innovations to the MicroSociety model. Come explore new ideas, connect with like-minded educators, and get excited for the coming school year!
The 30th Annual MicroSociety Conference will be held at Penn Hills Charter School of Entrepreneurship, a K-8 public school in Pittsburgh. Lookout for more information soon about the program, registration, lodging and pricing.
2022 Summer Conference
Curious about what happens at a MicroSociety summer conference? Explore last year's conference agenda.
2021 Summer Conference
Explore the 2021 conference agenda.