EAGLE Charter is a state-sponsored K-5 elementary school in Salem, Oregon with a 145 students across six grades and the Board has every intention of staying small.  Voted Best of Mid-Valley for local charter schools, leadership and staff see no reason to change and although the lottery application process is open to all residents of Oregon and the school boasts quite a waiting list, entrance is limited to 24 students for the incoming Kindergarten class and few openings in other grades. This is good news for Eagle Charter families. Staying small provides their children a strong sense of community and indeed, the entire point of this particular school is to bring a sense of family to its learning environment. That means being clever, focused and efficient with limited resources. Located on the campus of the Oregon School for the Deaf allows the school to share security, food services and the beautiful grounds of a larger educational environment.
"EAGLE"– Education through Activities in Governance, Leadership and Enterprise–was born as a result of a student contest so it is clear that student voice and choice was a priority from the beginning. The school's motto is "Building kind and competent citizens through hands-on and real-world experiences" and everything they do – from the classroom to the board room and infused into our strategic planning efforts – keeps this mission front and center. MicroSociety activities and the messy problems that arise there are woven throughout the day providing a multidimensional approach to the entire curriculum.
The school frequently holds open houses for the community to see Micro-in-Action and to track economic changes due to market success and failure. But that is all in a day's work if you want to prepare students for life in the real world.
Leadership Team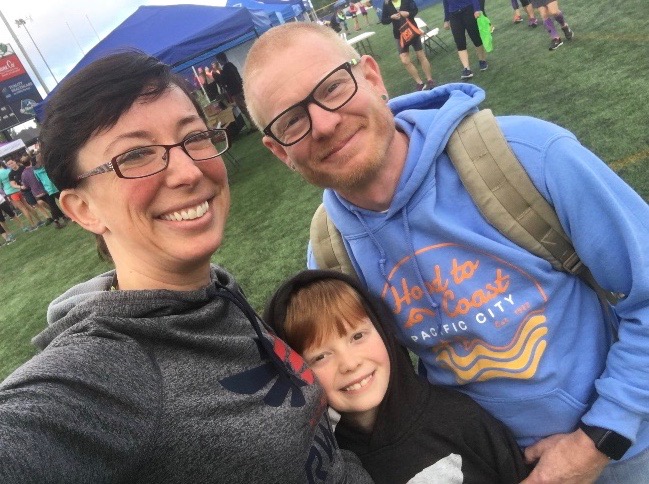 Marie Ballance
Principal
My name is Dr. Marie Ballance. I am the Principal of EAGLE Charter School. Some of my favorite foods include avocados, pizza, and all things Mexican, Indian, or Vietnamese. My favorite season is autumn and I love to teach people to knit and I knit while I run. I love supporting teachers so they can help students, learn, grow and achieve their dreams. And I love seeing children learn something new every day! My educational background includes: Clakamas Community College Chemeketa Community College Central Oregon Community College Istitute of Jewish Studies Concordia University, Portland George Fox University
Stacey Morgan
MicroSociety Coordinator/1st grade teacher
My name is Stacey Morgan and I have been teaching at EAGLE Charter School for the past 7 years as the 1st grade teacher. I love the small environment that EAGLE can provide for our students and community. My favorite season is the fall and my favorite foods are beef jerky and pickles. My favorite animal is a dog, more specifically my current dog, Penny. A couple interesting facts about me are that I am left handed and I have two different colored eyes. My 3rd grade teacher, Mr. Whitman, is my inspiration to be the best teacher I can be. He showed me that learning can be fun and that teachers are not perfect. I learned that teaching and learning is a lifelong skill and I am grateful to have acquired this skill from him. My educational background is as follows: Western Oregon University – BS in Education Western Oregon University – MS in Education, Curriculum and Instruction ESOL Endorsed
MicroSociety Innovations
Idea Fair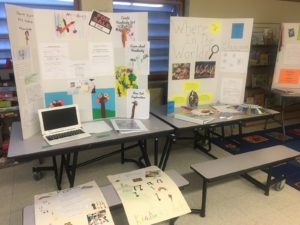 The Parent Club
Eagle includes a dynamic, active Parent Club that organizes many fund-raising and enriching activities with staff and students. It uses two-way communication to reach and engage parents and other stakeholders on a daily basis, through ClassDoJo, Facebook, the school Website and a very collaborative, "open-door" approach by all staff and board members.
Bylaws, board meeting minutes, curriculum information, calendars and policies are available on the website; regular updates are posted by the administrator on the school's Facebook page and via ClassDoJo.
EAGLE Charter School has created and integrated the 9 Essential Skills document found below. This self-assessment tool provides students an opportunity to reflect on their learning while understanding the expectations of their jobs as students and citizens of our micro society.
Parent/Partner Salute
Remarks from an EAGLE Student grandparent
It has been my experience as a retired public-school administrator that many students attend school without purpose.  During my career, many times students would tell me that the teacher gave a grade or that their parents made them go to school; furthermore, these were high school students.  Did the teacher really give you that grade or did you earn it? And how was it that your Mother made you go to school? Did you not choose to get out of bed, choose to get dressed and choose to get yourself here? So many were not invested. I want my grandchildren to find meaning in their schooling and to be invested in the process.
In fact, I want all children to find meaning in their schooling and avoid the passivity I saw too frequently. A MicroSociety education inherently requires students to invest, think, question, create, do and be rewarded accordingly for work accomplished. The school functions where natural consequences rule.  If I do a good day's work, I am rewarded. If there is an unjust situation, I have the opportunity through a process to make a change.
Last year my current first grader was new to the school, a kindergartner experiencing her first job in a jewelry making business, and she loved it. Apparently, she enjoyed it too much and began to goof off. Through a series of bad decisions, and even after being given guidance, she was fired.  The day she very sadly informed her Mom that she lost her job…fired, why…goofing off. She very clearly told her Mother and me that now she had to apply for a new job, interview, and hope to be hired again. The natural consequences of her actions were to have to go through the process, hope to get a job, loss of the beloved job.  Now remember, she was only five at this time, but still she was very aware that she owned the process.
A MicroSociety School embeds standards into daily life and more importantly, provides its students an appreciation of their importance. It answers the question: why.  The real-world setting allows students to practice literacy, to think mathematically, to collaborate and problem solve and to design alternative creative solutions as contributing citizens committed to its success. This is powerful!        
Mary Jean Sandall is a retired public-school administrator who has a broad experience in education.  She has been a teacher at all levels including elementary, middle, high, college/pre-service through post graduate. She was a Talented and Gifted Coordinator for a large urban school district and finished her career as an administrator for Alternative Education in that same district.  In that position she had the opportunity to create instructional programming that addressed various paths for student success. On the job, she was always looking for ways to engage the passive student and to promote student success. Retirement has presented her the opportunity to consult and work in areas of passion. She has provided coaching for school improvement, professional development, mentoring and Federal Programs monitoring. She also believes that it is important to give back.
Results
Over the past several years, EAGLE has experienced a lot of changes.  We have had changes in program implementation, administration, and student population.  One thing that has stayed the same throughout all of this is our staff's commitment of inclusion of SPED students, teaching about the Micro Society model, and community support from current and past families. Below are some quotes from staff, students, and families.
"I chose to work at EAGLE because it's rewarding and always different." Instructional Assistant
"I have always had a passion for helping others. Teaching gives me the opportunity
to help children reach their potentials, while impacting their lives in a positive
manner." -Instructional Assistant
"Micro helps me get ready for real work because if I don't work, I won't have any money." -Student
"Micro means fun and work at the same time!" -Student
"I don't want to pay rent and taxes, but if I don't, my pay will be garnished!" -Student
"Just pay your fines and stop getting them. Then you'll have money for shopping." -Student
"I love shopping days!" -Student
"How can we help our business be more successful? Nobody is coming during shopping days and we need more money to pay our employees." -Student
"Working at EAGLE gives me hope for our future generations. These students already know how to apply for a job and be interviewed. They are years ahead of their peers who do not attend a Micro school." -Teacher
"I would love to have a Micro middle school and high school! When will Salem have that?" -Parent
As a result of our robust Micro-Society program, our students experience continued growth and achievement in both math and reading. See chart below.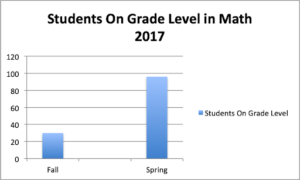 Featured Videos
Job Fair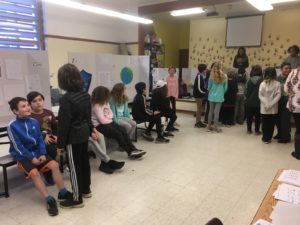 Business Rules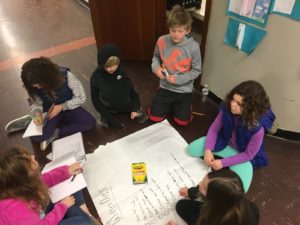 Garden